Kane Halfpipe Silage / Grain Trailer
The Halfpipe range is our flagship line of trailers replacing the well proven 'classic design' in the larger capacities 14T upwards. These trailers have a high specification as standard with the option of lesser specification. They are built with contractors in mind, supporting the fastest possible unloading combined with high speed running gear, upping your productivity. Also, a light weight design due to the use of high strength steels reduces the tare weight of your combination and consequently your fuel consumption. Couple this reduced weight with the incorporation of large 560 wide tyres and these trailers will be exert a low ground pressure making them very easy towed.
Key features
High tensile body
Single Tipping Cylinder
Commercial high speed axles and running gear
Sprung Drawbar
Unique Hydraulic up and over tail door complete with secondary LED lights and beacon.
LED lights
Fitted with 560/60 R22.5 tyres
Range
Each Model number corresponds to the nominal length of the body and then the depth. For example M620/1.7 is approx 6.2m long by 1.7m deep
Approx Tonnage
| | | | |
| --- | --- | --- | --- |
| 14T | M560/1.5 | M560/1.2 | M560/1.7 |
| 16T | M620/1.5 | M620/1.2 | M620/1.7 |
| 18T | M670/1.5 | M670/1.2 | M670/1.7 |
| 24T | M730/1.5 | M730/1.7 | |
| 28T | M800/1.5 | M800/1.7 | |
Additional Info
Root crop range M620 upwards with 1.2m deep body.
Halfpipe by Name, Not by Nature!
The word Halfpipe suggests that the profile of the body is a semi circle similar to half a pipe. This is not the case with the Kane Halfpipe. The trailer is branded the Kane Halfpipe due to its folds at the bottom of the side, these folds do not compromise capacity like a other halfpipe designs, see Figure H01. (Not to scale)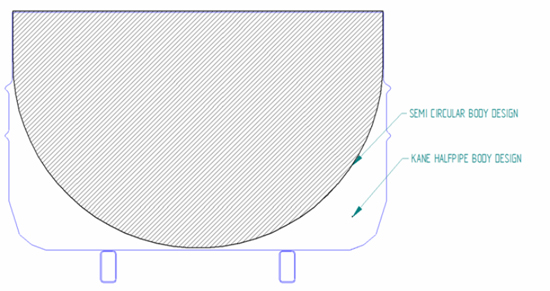 Figure H01
Specification:
Kane Engineering reserves the right to vary their specification at any time in accordance with their policy of constant product improvement. Whilst every effort is made to ensure the accuracy of the particulars contained in this website, neither the manufacturers nor the distributor or dealer shall in any circumstances be held liable for any inaccuracy or the consequence thereof.